Relitto Anna Bianca (Wreck Anna Bianca)
The wreck of the Anna Bianca today lies at a depth of between 33 and 52 meters on a white sand seabed. The stern part is still well preserved, while the central part of the ship is now completely destroyed. The bow is about 52 meters deep.
The wreck rests on the starboard side, on a sandy bottom at about forty meters which slopes westward to over fifty meters deep. The wreck is not penetrable as the structures are collapsed and full of electric cables and lines. In the captain's cabin it is easy to see huge conger eels and large red scorpionfish.
Among the twisted metal sheets it is easy to come across large forkbeards and lobsters and whole colonies of prawns.
The wreck is footed before the dive and the descent takes place on the top of the footing.
Our suggestion is to go up along the wall, in order to prolong the dive and enjoy the ascent on the landslide full of life.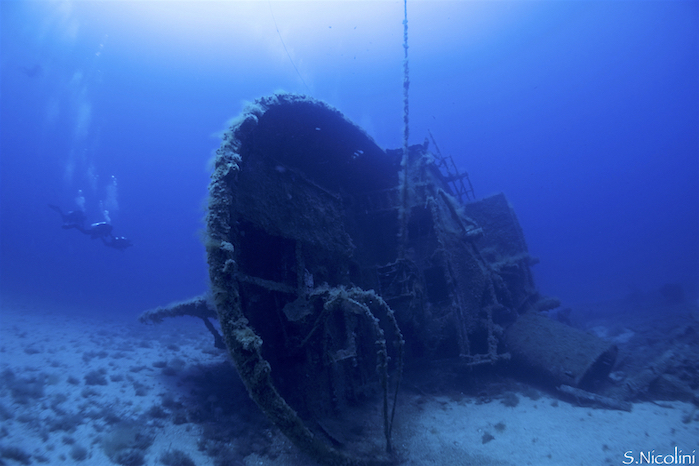 History of the Ship
The Legend
History of the Ship
The ship was originally named Vivien. After the launch it had many changes of ownership and name changes; Fridius, Carlin, Mariù, Tirana and finally bought by an Italian company that renames it Eminia. During the war, Italy desperately needed all the merchant ships possible to be used to supply the troops engaged on the so-called "fourth shore" – Libya. The ship was requisitioned and used by the Regia Marina for the transport of materials and spare parts in the war zone.
In 1943, after the armistice of 8 September, she was sunk by the Germans in the port of Bari, but obviously her story didn't end there! She decides to recover her, and for the small freighter the carousel of names and changes of ownership begins again: first Vandam, then Argo and finally in 1963 Anna Bianca. And we arrive at the tragic night of April 3, 1971.
The Legend