diving argentario:
Headquarters
The diving center is located along the lovely seafront of Porto Ercole, one of the most beautiful villages in Italy, just a few meters away from our boats. We are in the southern part of Monte Argentario.
Since 2006 Argentario Divers has been a landmark for those who dive along the coasts of Argentario, Giannutri and Giglio Islands.
Our diving center is quite large, with reception, dressing room, toilet and hot shower, storage shelves for your equipment, cabinets with lockers.
We meet the needs of divers at every level of experience.

Our diving center is open all year long and we offer all-round service: full day, guided dives and technical dives. And more… recreational, technical and professional courses, snorkeling tours.
For those who want to spend some days diving, we organize "Blue Weeks" too.
We are proud to be the first UTD Instructor Training Center in Italy, and we wait for you to dive with us.
Attrezzature
Ampia scelta di attrezzatura a noleggio ricreativa e tecnica in configurazione DIR.
200 bombole bi-attacco da 10, 12, 15 e 18 litri
20 bi bombola
40 decompressive e stage di fondo, complete imbrago ed erogatore
10 bombole configurate sidemount
25 attrezzature ricreative complete
5 attrezzature tecniche
3 kit side mount
10 bombolini per rebreather
10 bombolini stagna
10 bombole di bail out
Sofnolime e banco test sensori di ossigeno
Grazie alla collaborazione con le principali aziende del settore abbiamo a disposizione per essere testati in acqua:
mute stagne SANTI con sottomuta e riscaldatori
illuminatori XDIVE
scooter subacquei SUEX
Laboratorio riparazione attrezzature
Laboratorio manutenzione, revisione attrezzatura e assistenza prodotti Suex, Scubapro, Cressi, Scubaforce, Scubatec.
Service Center Suex abilitato alla revisione degli scooter Suex di livello s1, s2 ed s3.
Service Center SF2, abilitato alla manutenzione del rebreather SF2.
Ricarica, noleggio e analisi gas
Ricarica e noleggio bombole oil free, nitrox, ossigeno e trimix.

Why choose to
dive with us?

Expert scuba divers are waiting for you to dive together!

Ecco tutte le nostre imbarcazioni pensate per l'attività subacquea!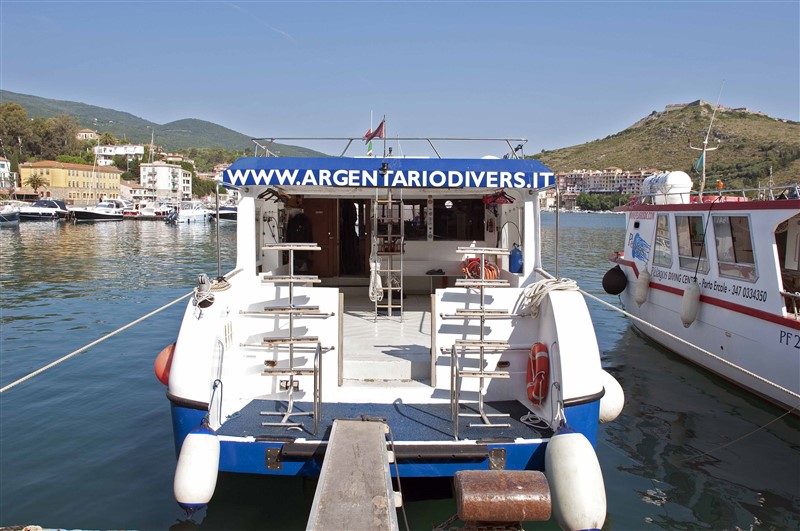 Diving boat designed for scuba diving activities, fast and spacious, 17 meters long and equipped with 2 new generations John Deere 550 HP engines. Ideal for full day trips, with on board lunch and open bar.
Rubber boat Master 8.5 Meters, SUZUKY 250 CV engine, fully set up for diving, used for mini full day, single and technical dives.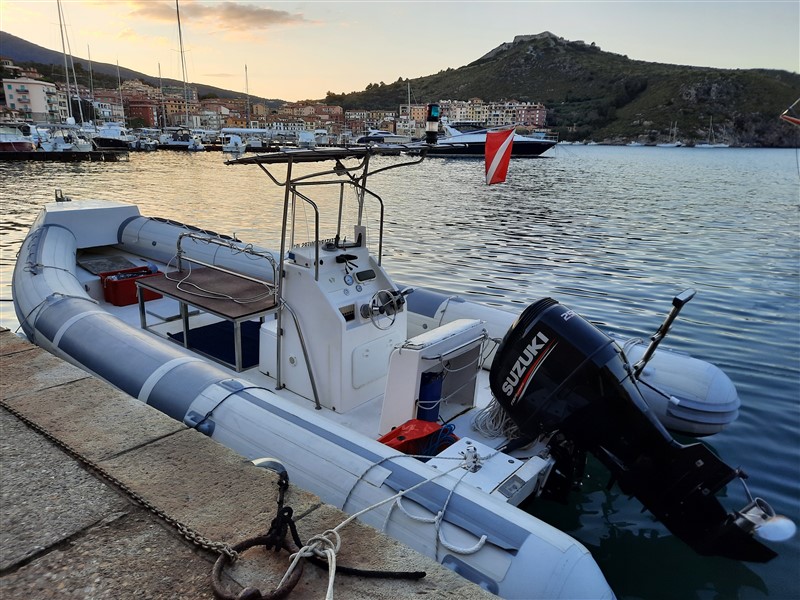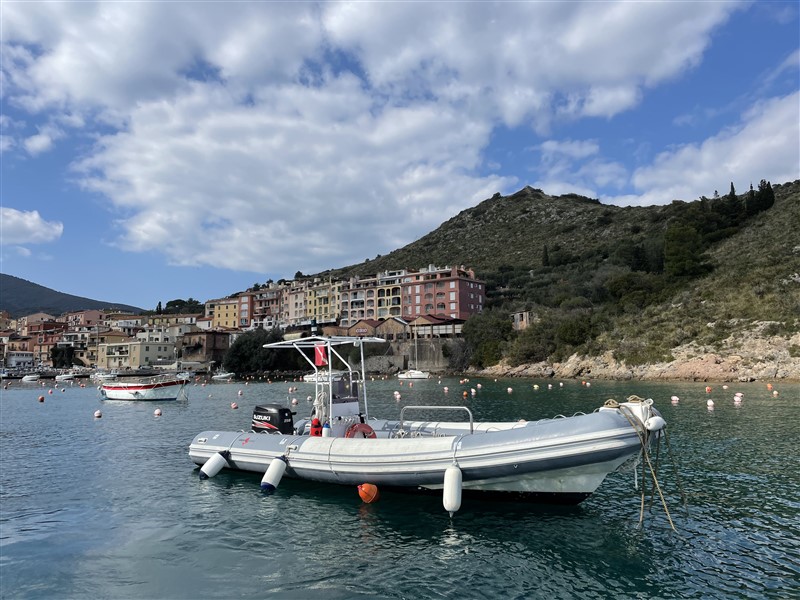 Rubber boat Lomac 7.5 meters, SUZUKY 250 CV engine, set up for diving, ideal for single and technical dives.
In partnership with other local businesses, we carry out underwater work in the Monte Argentario area, the islands of Giannutri and Giglio.
In addition to the normal recreational activities of diving, we take care of underwater works in the Monte Argentario area, research and recovery activities, demolition and construction of maritime works, laying and maintenance of underwater pipelines, laying and setting up of floating moorings.
Recovery of stranded anchors and chains, search and recovery of sunken boats.
We aim to provide high quality products and services by devising advanced technological solutions, capable of enhancing the operational production of the yard, optimizing the technical and economic advantages in compliance with safety standards.
These objectives are achieved thanks to the competence of the staff made up of qualified professionals and technicians.
Underwater Construction
Underwater cutting and welding (Broco collet)
Search and recovery
Search and recovery of stranded anchors Giannutri
Search and recovery of stranded anchors in Argentario
Surveys and underwater photogrammetry
Installation of floating systems
Underwater drilling
Underwater demolition
Underwater sorption
Maritime works
Subsea pipeline installation and maintenance
Submarine cable installation
Naval and underwater salvage and demolition
Underwater planing
Underwater consolidation
Arrangement, installation and commissioning of fixed moorings
Underwater and Maritime works for boats and port shps
Inspections, monitoring, preparation and mooring maintenance
Installation of floating docks
Inspection of hulls, shafts, propellers and moorings
Naval maintenance
Cleaning hulls, axles, rudders and propellers
Replacement of anodes and propellers
Recovery of anchors, chains and moorings in the Argentario area, Giannutri and Giglio islands
Assistance and recovery of damaged boats in the Argentario area, the islands of Giannutri and Giglio
Special unserwater works and services
Logistic technical support and entertainment services
Medical-scientific and biological research projects
Services for underwater archaeology
Logistic technical support and services for geology
Lavori subacquei e marittimi per imbarcazioni e navi da diporto
Lavori e servizi subacquei speciali
Our trimix and mixes filling station has been designed in collaboration with Matteo Amadori of Martin Sub Roma and Bauer Italy.
We feature a Bauer PE700 compressor with a BKOOL cooling system for air fills, an L&W 450 compressor for nitrox and trimix mixes and another L&W 450 onboard the ABRACADABRA boat.
We can also fill pure gases up to 200 bar of pressure thanks to 2 booster pumps provided by the MPS company.
Thanks to our additional filtering pipelines we can guarantee all the mixes we produce are oil-free, water-free and fully safe.
A Multigas Deox gas analyzer interfaced with the compressors is always reading in real time the values of Oxygen, Helium, CO, CO2, humidity and temperature.
If these values are outside our acceptable ranges the compressors shut down automatically.
The mixes are blended only within the limitations of the diver's certification and only for strictly personal use.
When a customer collects the filled tanks they are required to analyze the mix, personally fill in the refill sticker and apply it on the tank and fill in and sign the gas fill ledger.
IMPORTANT: tanks that have their test date expired WILL NOT BE FILLED.
For mixes other than air a 24 hours notice is required.