UTD COURSES
Unified Team Diving is:
a global leader in scuba diving training; equipment manufacturing: and a global community for likeminded divers.
UTD is a world-wide, high quality, fast growing dive training agency and online ctommunity
We are the only scuba education system that using our own equipment.
UTD's worldwide presence extends to Europe, USA, Mexico, Russia, South America, Africa, Australia and throughout Asia Pacific including China and the Philippines
RECREATIONAL TRAINING
The recreational training category is designed for non-certified divers, and divers who are seeking advanced training in the essentials of sound recreational diving practices; recreational diving being defined as scuba diving in "non-overhead" environment at 130'/39m or shallower. UTD's classes for non-certified divers are Open Water and Recreational 1.
Once certified, UTD's recreational courses offer divers a clear path to advanced training. Advanced classes include Recreational 2 (Nitrox/Advanced to 100'/30m), Recreational 3 (Helitrox to 130'/39m), and Essentials of Recreational Diving. Essentials of Rec is a personal skills class and is the entry into the UTD system of diving for any certified diver.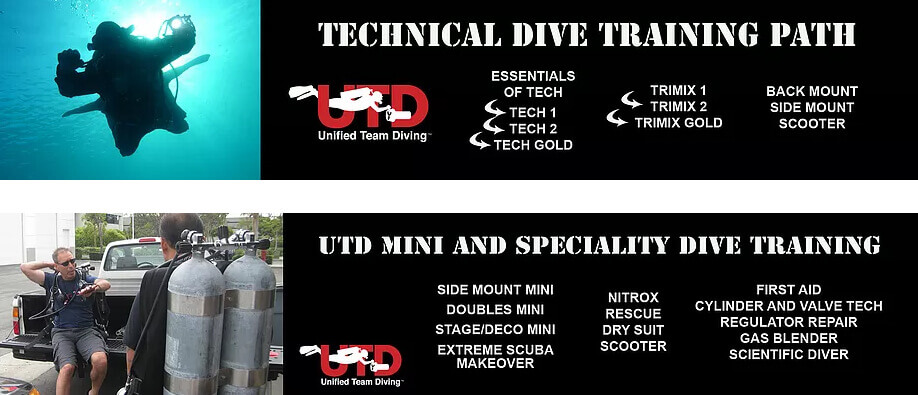 REBREATHER
This training category is designed for divers seeking training in Rebreathers. Rebreather diving goes beyond the domain of recreational diving by exposing divers to, among other things, more equipment demands. This necessitates additional knowledge, skills, and equipment not found in recreational diving. These courses are designed to produce a competent and skillful rebreather diver, one who is armed with a sound theoretical understanding of the intricacies of rebreather diving as well as excellent in-water skills.
The SF2 is a complete electronic closed-circuit rebreather engineered and designed in Germany for divers all over the world.
"Keep it simple!" was the leading mission statement while developing the SF2.
The vision became mission and eventually reality.  This concept is evident at first glance.  The device is shaped very cleanly and simply; and compared to other rebreathers the SF2 is compact and well-arranged.
This is possible as all the important components are integrated into the carbon fiber tube, resulting in the SF2 requiring significantly less volume.  Industry tests, as well as, various certifications assure a constant level of security while diving.
The SF2 is particularly suited for ambitious technical dives and is available in both Backmount and Sidemount versions.