Argentario Divers price list. Find out our promotions
The warm season has come! Don't lose the opportunity to start it in the best way with Argentario Divers!
Choose the best offer for you and your family. With Argentario Divers you have a wide range of promotions that will let you do beautiful dives in Giannutri and Giglio Islands, and along the coast of Argentario. Not only! On our boats there's space for everyone, grown-ups and kids, with us you can make your holidays funnier. You only have to send a mail at info@argentariodivers.it, we will send you prices and more details.
Don't lose the opportunity to surprise your family and friends!
The Full day price includes:
Boat trip, 2 dives, air tanks, guide on request, Argentario Divers assistance.
Diving and on board service:
Free shuttle from parking and camper areas, breakfast, lunch and open bar, bathroom with hot shower and hairdryer, Argentario Divers assistance.
The price doesn't change if the diver decides not to dive.
It is recommended to bring your own weightbelt.
Full Day
The package includes: tanks, weightbelt, boat trip and guide.
FULL DAY – 90,00 €
Dives in Giannutri and Giglio islands, or along the coast of Argentario
​
FULL SUNSET – 90,00 €
Afternoon dive, evening appetizer, night dive and dinner under the stars.
MIDWEEK FULL DAY – 3 fullday and 2 nights – 250,00 €
Dives in Giannutri or Giglio islands, or along the coast of Argentario
– Punta Pennello Cave and Anna Bianca wreck – Giannutri
– Argentarola Island and Scoglio del Corallo – Argentario
– Mezzo Canale shoal and Scoglio Sommerso – Argentario
The package includes: 6 dives, breakfast, snack, lunch, open bar on board, tanks, weigtbelt and dive guide; two nights in hotel or B&B.
Includes: tanks, weightbelt and boat trip.
Padi Courses
TRY SCUBA – 90,00€
Duration: 7 hours.
It opens to you the door of an extraordinary world, funny and exciting! Breathing underwater for the first time, trying the emotion of being weightless and watching never seen before colors!
OPEN WATER DIVER – 390,00€
Duration: 4 days
First step of a course that teaches you how to dive independently. You will discover the underwater world, with the supervision of qualified instructors. This course gives you an internationally recognized license.
ADVANCED OPEN WATER DIVER – 320,00€
Duration: 3 days
You will obtain an higher level license, including specialties as: wreck diving, deep diving, night diving, wetsuit diving, nitrox diving, and DPV.
RESCUE DIVER – 400,00€
Duration: 4 days
This courses teaches how to prevent and face little emergencies, both underwater and on the surface; formative and challenging!
DIVEMASTER – 800,00€
Duration: 8 days
First level of professional diving training. Working with an instructor, the diver will have the chance to improve his or her diving and rescue skills, to be able to forestall and solve problems.
SINGLE DIVES
The price of the single dive – SHORT DISTANCE and LONG DISTANCE
(includes: RIB trip, 1 dive, air tank and dive guide on request)

Short distance_RIB – 40,00€
Long distance_RIB – 50,00€
Short distance_Boat – 50,00€
Night dive including dinner on board – 65,00€
Night dive_RIB – 50,00€
Sunset dive including appetizer on board – 60,00€
SHORT distance diving spots (within 5 miles from Porto Ercole):
Isolotto (little Island) of Porto Ercole, Scoglio Sommerso, Punta Avoltore, Cala dei Santi, Punta Naso di Papa, Grotta Azzurra, Punta Finestra.
LONG distance diving spots (over 5 miles from Porto Ercole):
Giannutri Island, Scoglio del Corallo, Argentarola, Cala Grande, Capo d' Uomo Shoal, Presidente Shoal, Cernia Shoal, Zi Tof Shoal.
TECH DIVES
Tech dive_RIB_within 1,5 hour – 65,00€
Tech dive_RIB_over 1,5 hour – 85,00€
Tech dive_Boat – 85,00€
Special dives – 120,00€
Snorkeling
The offer includes snorkeling kit and lunch or snack on board
Full day snorkeling – 50,00€
Full day snorkeling_kids under 12 – 30,00€
Half day snorkeling – 35,00€
Half day snorkeling_kids under 12 – 20,00€
Gift box
Choose the service you like and we'll send you the gift voucher

Full Day          90,00€
Full day in Giannutri or Giglio islands. Lunch on board
3 Full Days          240,00€
3 full day in Giannutri or Giglio islands. Lunch on board
5 Full Days          370,00€
5 full day in Giannutri or Giglio islands. Lunch on board
Discovery Scuba Diving      90,00€
whether you want to discover the amazing underwater world that SCUBA diving can introduce you to, or you are looking to earn your highest rating as a recreational diver
Diving courses                   390,00€
First level course with patent issuance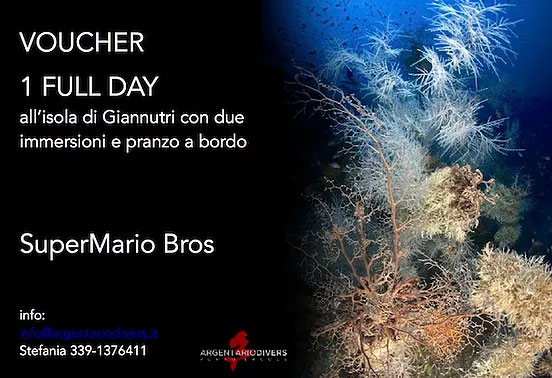 BOOK NOW
RECREATIONAL EQUIPMENT RENTAL
Complete equipment (not including computer and torch) – 30,00€
Wet suit – 10,00€
Dry suit – 30,00€
BCD – 10,00€
Regulator – 10,00€
Mask – Fins – Snorkel – 10,00€
Computer or Gauge  – 15,00€
Dive torch – 15,00€
Extra for Nitrox 32 and Nitrox 36 – 5,00€ per tank
FOR THOSE WHO DON'T DIVE WITH ARGENTARIO DIVERS
Mask – Fins – Snorkel – 15,00€
Weight belt  – 10,00€
Air tank – 10,00€
Nitrox 32 and Nitrox 36 tank – 20,00€ 
TECHNICAL EQUIPMENT RENTAL
Aluminium stages S40 – S80 – 7lt – 10,00€
Double tank 232 bar D7 – D8,5 – D10 –D12 – D16 – 15,00€
DPV – 30,00€
DIR Configuration – single tank or double tank, regulator, backplate with harness, wing – 30,00€
PRIVATE DIVE GUIDE AND PREPAID PACKAGE
Recreational dive Private guide – 50,00€
Technical dive Private guide (gas not included) – 60,00€
Private boat or RIB on request
PREPAID PACKAGE
6 Dives (or 3 full days) – 240,00€
10 Dives (or 5 full days) – 370,00€